Mom, we understand that your days are really busy, and sometimes you need time alone to either finish chores, cook a meal, take a shower, or you just need a moment for yourself. Other times you need to finish an important email or phone call, we get it. It is tempting to lean on technology to keep your kids busy at home, but you can also give them activities that will help them develop necessary life skills & values like team-work, leadership, communication skills, kindness, and imagination. This blog post lists five infant and toddler activities that will do just that, plus will keep them entertained and give you peace of mind for a while.

1. Give Your Kids Space (By Creating It!)
Designate a special area where your kids can play and focus some of their extra energy on. This can be a special corner of a room or a full playroom where all of their toys are centralized (and also some of the noise ????). You can also have a toy box or a bin containing multiple toys for kids or other objects that will help keep them busy.
Helping cleaning up after playtime may also be entertaining for your infant or toddler, which is a win-win situation if you ask me.
You can create your kid's space with:
1. A Prince Lionheart Jumbo Toy Hammock
2. These Playmats & Playpens by Baby Care
3. Colourful and fun storage boxes, wall organizers, and book racks by 3 Sprouts.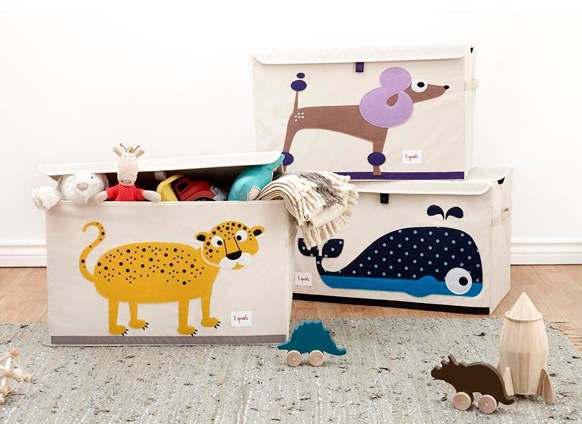 2. Give Your Kids a Job
Give your kid an activity that resembles a real day-to-day job. Explain to them what the job is about and why it is important. For example, if you give them the task to be a Doctor, tell them how Doctors help the community by saving lives. After your kid is done playing, ask them what they learned about their job in order to help them develop their imagination, communication skills, and kindness. Who knows? Maybe they will find something they will do for life!
Some fun job ideas for kids are:
1. Doctor: Reinforce the importance of empathy with this ambulance and doctor's kit by Green Toys.
2. Pianist: Encourage their creativity with this Confetti Piano by Janod.
3. Baker / Cook: Did anyone say MasterChef Junior? Help them get there with these Cake Maker Dough Set & Meal Maker Dough Set by Green Toys.
4. Grocery Store Associate: Reinforce the value of being organized and helping others with this Green Market Grocery Play Toy by Janod, and for more realism, you can add a shopping cart by Melissa & Doug
5. ZooKeeper: Use giant stuffed animals to set up the room! Like these Giant Stuffed Animals by Melissa & Doug.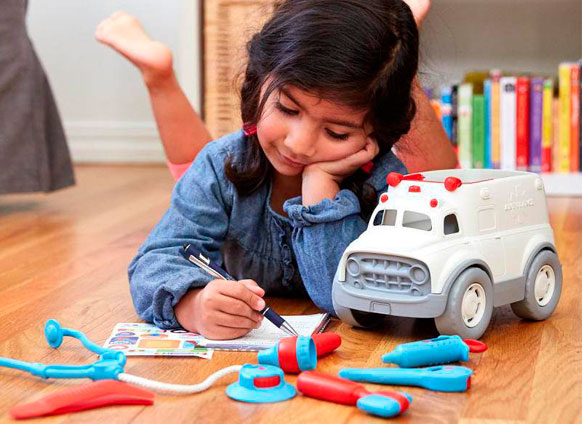 3. Let Your Kid Be Your Little Helper
Invite your kid to be more involved in the daily chores at home. Your kid or kids can help you out whether you're cooking or cleaning (and it can be fun too!). Doing these activities along with them will deepen the bond between you, facilitate communication, and can even make your kid feel more accountable for what they do around the house.
You can use the following to prepare a meal together:
1. Use the most adorable Sleeved Bibs by Bumkins to keep your kid's clothes clean (and make meal prep more fun!). They come in fun patterns like Mickey Mouse and hearts.
2. Bring your baby closer to you with The Perch, the hook-on chair with the tallest backrest and easiest installation by guzzie+Guss, and keep their space cleaner with The Perch's liner and placemat.
3. Use the cutest mess-free silicone Silidps and Siliplates by Kushies that suction to most tables and prevent a mess from happening. They come in multiple forms like butterflies, or rockets!

4.Three Magic Words: Toys for Kids!
Toys come in so many shapes and colours, it is impossible for kids not to be entertained by them. Pick and choose between interactive toys, plush toys, teethers, etc. Here are some of my favourites:
1. The Explore & More 3 Stage Activity Center by Skip Hop. It's easy to install and converts for easy cruising-ultimately becoming a clean, sturdy table for colouring, playing and more.
2. LouLou Lollipop Teethers: They come in multiple shapes, materials, and colours. Some of our favourites are the Silicone Teether Sloth, the Bubble Silicone & Wood Teether Baby Blue, and the Cookie Teether with Holder Cotton Candy
3. The Musical Animals by Little Big Friends: They will soothe your baby and be their new favourite companion. They're pleasant to handle thanks to its soft texture and pretty rounded forms.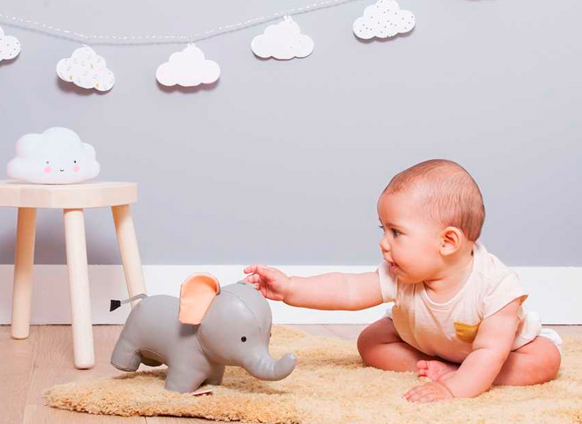 5. Educational Books for Kids
Books can be fun too! Select those that allow your kids to use the book as a toy and they will learn while having fun:
1. The Finger Puppet Books by Barrons have vivid retro designs and built-in animal finger puppets that make these little board books hard to resist.
2. Sophie La Giraffe's Board Books are great to increase engagement with different textures and bright, lively pictures. Plus, Sophie la Girafe is a popular shower gift and has garnered praise from parents everywhere.
3. Explore Meiya and Alvin's friendship through A Day at the Park, a beautifully illustrated board book following Meiya and Alvin through their day.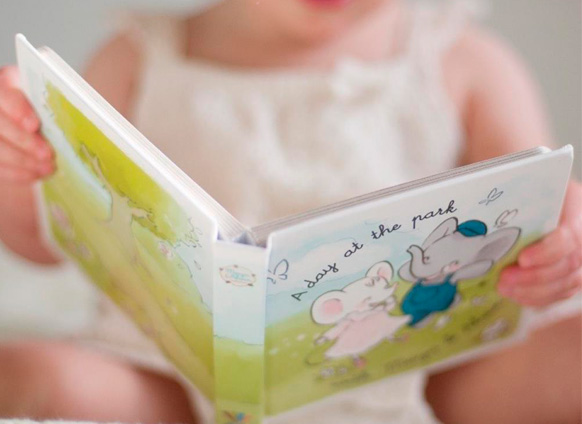 So here you have it moms; five infant and toddler activities that can keep your kiddos entertained at home without the need for using technology. Which one did you like the best? If you recreate any of these, please make sure to share them on Instagram or Facebook by tagging us or using our #tjskids official hashtag, it will keep us inspired!.