Carrying your baby is essential to their normal physical, psychological and neurological development. Human bodies are adapted to be a carrying species, it is part of our evolutionary history, and however, our bodies are not as fit or as strong as our nomadic ancestors. It can be hard to carry in arms for prolonged periods of time. Nevertheless, babies need to be held, so a good, safe sling can be very useful in to help with increasing carrying frequency.
Remember, it is the relationship of closeness and loving touch that matters, as well as the position adopted in a good sling. The type of sling or the fabric that you use is just personal preference.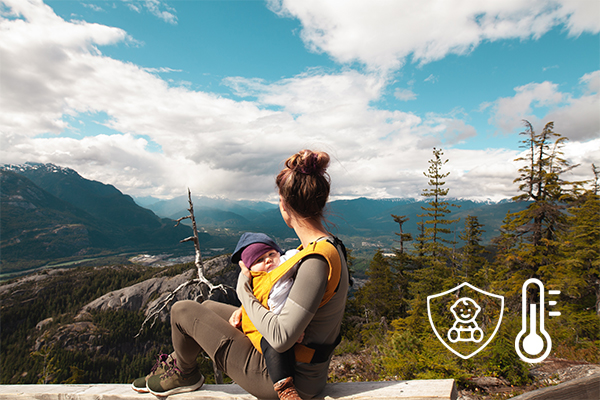 • It encourages bonding with the parent and helps to meets baby's strong need for a sense of security and attachment, which will lead to greater confidence and independence later in life, as well as greater resilience and better long-term physical health.
• It helps to regulate temperature, heart and respiratory rates, and emotional and physical growth. This can be especially useful for premature babies (the term "kangaroo care" and "fourth trimester" come from this concept) or children who are unwell.
• It promotes and encourages the establishment of a successful breastfeeding relationship, in part due to the oxytocin release from the soft touch. Mothers who carry their children in soft slings are more likely to breastfeed beyond the early weeks.
• Soft touch has many benefits for neurodevelopment and and helping the social brain to form.
• Regular close skin contact is believed to help babies regulate their circadian rhythms better and distinguish the difference between night and day sleep.
• It reduces crying, both frequency and duration, (Hunziker and Barr 1986) and can improve sleep. It is safe for your baby to sleep in the sling, if the airway is well protected. Less crying means more time to be in "quiet absorption', promoting learning and positive interactions with the world. The Esposito study discusses some of the mechanisms behind movement and how carrying is calming for babies.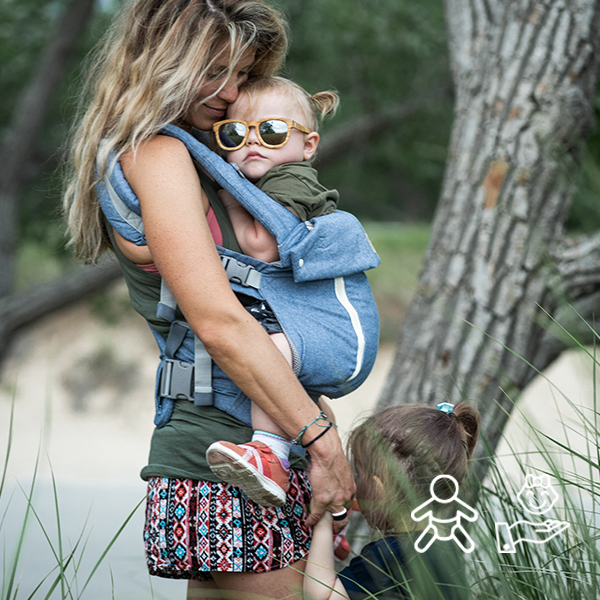 • Babies with colic can be hard to soothe, but the motion gained from being gently rocked in a sling while the parent walks may help to settle them, and also the parent may feel less helpless. There is no evidence to suggest that babywearing actually reduces colic itself.
• Many parents of reflux babies spend a lot of time holding them upright and have tired arms and sore backs! A good sling that supports an upright position can thus reduce regurgitation and the discomfort of reflux. A spread squat position helps relax puborectalis muscle, to aid bowel elimination.
• The motion experienced by a baby being held by the carer allows the vestibular balance apparatus to develop more rapidly and enhances neuromotor development and muscle strength. It improves neck and head control, but is not a true substitute for "tummy-time" (tummy-time head-lifting is against gravity from a prone position). This is more marked with dynamic in-arms carrying (where this is possible). A sling or carrier should never be used as a prolonged restraint (unless danger is present such as crossing the road).
• Children should always be encouraged to be active as much as possible (WHO 2019) and if they want to get down and it is safe and practical to do so, this is ideal. However, this doesn't mean that a child who is otherwise very active needs to be automatically removed from the sling after a certain amount of time. Sleeping babies do not need to be disturbed, just gently adjusted to ensure safety.
• It is believed to encourage sociability and language development; being able to hear the parent's voice close up and watch their interactions with the world and other people from a higher vantage point is beneficial and also aids formation of family relationships. Studies into reduced talking in outward facing buggies highlights the importance of children being able to communicate easily with their carers.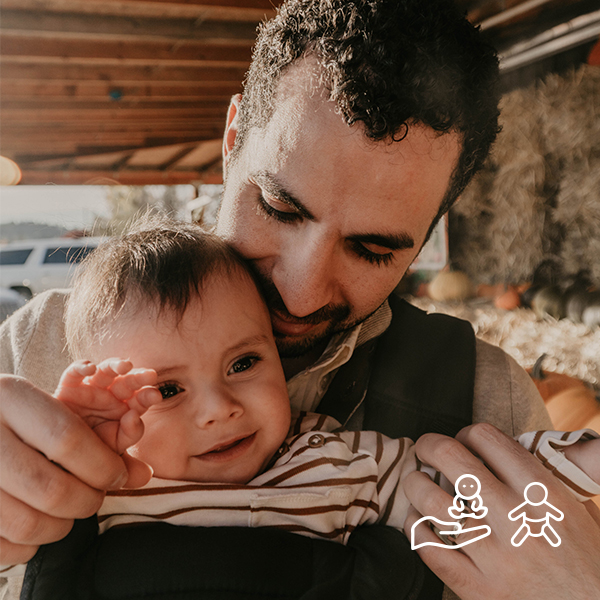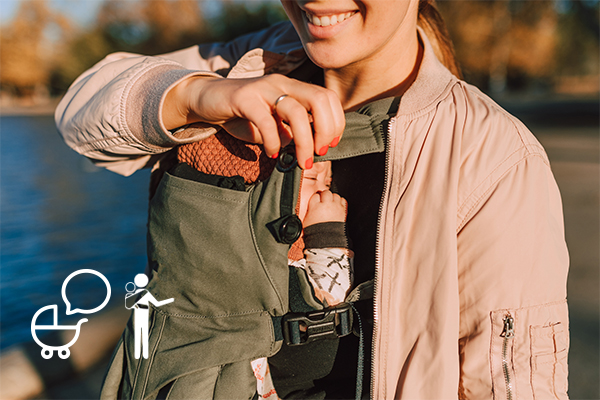 • It allows baby to retreat from an overwhelming world and snuggle into the parent's body for respite when needed. This is harder to do with world-facing carries, so encouraging parental responsiveness with front-facing out positions is important. (The challenges of facing forwards is covered in more depth here)
• Babies can learn very easily from a place of consistent safety, as their brains are not engaged with mere survival.
• Good, correctly designed slings that encourage the physiological spread-squat "M shape" position (that mimics hip-perching) can help prevent hip problems later in life in those children at risk of hip dysplasia. There is currently no convincing evidence that narrower based carriers cause hip dysplasia in otherwise healthy hips.
• Babies who are carried are less at risk of plagiocephaly (the flattening of the skull bones at the back of the head from prolonged periods lying on the back, more common since the "Back to Sleep" campaign). Slings are recommended as one solution (by the NHS, too!)
SOURCE: Carrying Matters, Dr Rosie Knowles. Available on: https://www.carryingmatters.co.uk/positive-effects-of-carrying-for-baby/